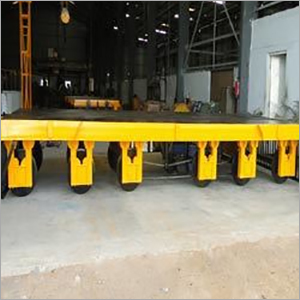 Product Description
IC Engine Driven Multi Axle Transfer Trolley is manufactured using best grade material and is in conformity with international quality standards. The assortment of trolley is highly appreciated by the clients for their features such as longer functional life and low maintenance. This type of trolley finds extensive applications in the construction and associated industries for moving heavy materials in between factory bays and factories. Clients can avail this trolley from us in specifications varying from 2 ton to 200 tons carrying capacity which are planned to run on rails for inter bay move of material and are power-driven by an internal combustion engine.


Available Capacity Range : 2 tons to 200 tons
Available Span Range : 6 mtrs
Application
Steel Plants
Coal Fields
Engineering Industry
Transformer Industry
Power Plant
Workshop
Cable Industry
Process Plants



Features

5 speed operation.
Operates on electricity
Max. capacity is from 2 ton to 200 tons
Minimum maintenance and less operating cost.
Operating speeds varying from 10 mpm to 70 mpm
Max size - up to 15 mts length x 5 mts width x 1.5 mts ht.

Robust design to with stand severe outdoor climatic conditions
The internal combustion engine functioning trolley can run for longer distances.
Optimum design of the structure evading dead weight and decreasing the cost of the equipment.