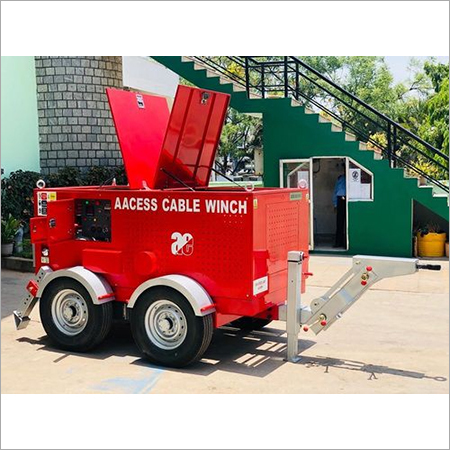 Hydraulic Cable Pulling Winch
Price And Quantity
Product Specifications
Hydraulic

3 ton , 5 ton, 10 ton, 15 ton, 20 ton and 25 ton Ton/day
500 mtrs, 750 mtrs and 100 mtrs. Meter (m)
Product Description
Aacess equipments Are Pioneers in Manufacturing Of All Types Of Cable Pulling Winches Which Are Used In Pulling and Laying Of Underground Heavy Duty Cables, We Offer A Wide Range Of Winches Meeting the Needs Of The Clients. These Winches Are Very Sturdy And Are Designed To Perform very Well On Site.
These Winches Are Very Much preferred In Pulling The Electrical Cables For Underground Cabling, Cable pulling Winches - Hydraulic Operated Draw Power From An I C Engine And Feeds A closed Loop Hydro Pump And This Pump Drives A Double Capstan Via A Hydro Motor and A Gear Box. In The Case Of Pay In Or Pay Out of The Wire Rope To Pull The Cable Is Provided from A Rope Holding Drum Which Keeps The Total Wire Rope Wound On It And Offers the Same To Double Capstan Turret Whenever It Is Needed.

A Small Hydro Motor Drives The Rope drum To Wind and Un-Wind It. The Winch Is Also Provided With A Wire Rope Guiding mechanism For Ensuring Proper Laying Of The Wire Rope On The Drum. The Total Unit is Controlled Through Control Panel Having A Hmi And A Plc For Controlling The unit For Speed And Load

Pulling cap Range - 3 Ton, 5ton, 10 Ton, 15 Ton, 20 Ton & 25 Ton

Wire rope Lengths -500 Mtrs, 750 Mtrs And 1000mtrs.
Operational Features of Hydraulic Cable Pulling Winch
Provision to Enter Project Details, Cable Details And Cable Size.
Length Of The Cable Being Pulled Isdisplayed On Hmi.
The Load Value In Kgs And Speed Valuein Mts/Min Can Be Fed Into The Plc Through Hmi.
Rope Guide Mechanism For Appropriatelaying Of Wire Rope.
Hand Op. Servo Control System Forvarying The Speed During Pay In And Pay Out.
Facility To Take A Print Out Of The Loadand Speed Of Pulling As Per Your Convenience.
Canopy To Protect The Unit Frommechanical Damage.
Bypass Facility Available Duringoverload And Speed.Mounted On Wheels And Can Be Towed Anywhere With The Aid Ofa Prime Mover
The Pulling Speed Is 18 Mpm And Payout Speed Is 30 Mpm, Thereby Speeding Up Of Work.
No Other Electrical Power Is Neededas The Controls Are Functioning On 12 Volts Dc Drawn From The Battery.
The Unit Runs On 12 Volts Dc Powerdrawn For The Battery Which Is Charged Through An Alternator Fitted To Theengine.

Product details


| | |
| --- | --- |
| Minimum Order Quantity | 1 Unit |
| Power source | Hydraulic |
| Capacity | 3 ton , 5 ton, 10 ton, 15 ton, 20 ton and 25 ton |
| I Deal In | New Only |
| Brand | Aacess |
| Wire Rope | 500 mtrs, 750 mtrs and 100 mtrs. |
| Voltage | 12 volts |
| Usage | Industrial |
| Pulling Cap Range | 3 ton , 5 ton, 10 ton, 15 ton, 20 ton and 25 ton |