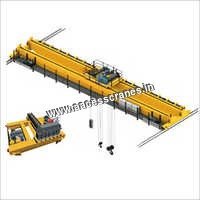 HOT Crane
Product Description
HOT Crane is basically single girder bridge crane which is driven by electricity. It is extensively used for lifting heavy goods in warehouses and factories. Girder of this lifting device is equipped with necessary parts like pantograph, working platform, girder box and trolley rail that have been designed as per industry specified standards. As part of its safety attributes, this crane has overload limiting switch, interlock protection system to avoid low voltage condition, rail clear plate for ceasing its operation during emergency and anti collision system for ground safety purpose. We are a reliable manufacturer and exporter of Hand Operated Travelling crane.

Features:

1) Offered crane can be obtained in different loading capacity and lifting height based options.
2) Powered by electricity.
3) Wireless remote or push button controlled operation.
4) Fast lifting mode.