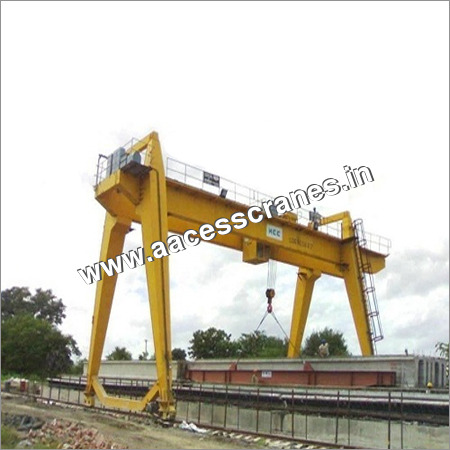 Product Description
We offer Goliath Cranes with electric chain & manual commute dolly according to the interest of the customers. Further, we additionally offer these cranes with an option of getting leeway width set on a dynamic methodology with the clasp support. The cranes find far reaching application in warehouses,construction sites,loading docks and vehicle maintenance firms. The whole collection of cranes is exceptionally sturdy in nature and obliges minimum support.
Available Capacity Range : 5 tons to 100 tons
Available Span Range : 45 mtrs

Application:

Steel Plants
Coal Fields
Cement Plants
Engineering Industry
Transformer Industry
Power Plant
Workshop
Cable Industry
Process Plants
Our Goliath Cranes Available Capacity Range from 5 tons to 100 tons and the Available Span Range is 45Mtrs
Special Features :
Radio remote control
Robust outline to withstand serious outside climatic conditions
Easy open sort plan which takes into consideration simple upkeep
Offered with a VVF Drive for stretched out travel activity so as to dodge effect loads
Optimum outline of the structure maintaining a strategic distance from dead weight and reducing the cost of hardware
Requires least upkeep and low running expense
Wide choice of operational speeds according to the interest of the client
Our configuration is 3 piece outline that can be easily gathered at site permitting lower transportation cost.
Product Details:

Minimum Order Quantity : 1 Unit
Capacity : 2 ton - 100 ton
Hoist Travelling Speed : 3 Mts/Min - 12 Mts/Min
Max Height : Upto 18 Mts
Power Source : Electric
Span : 5 Mts - 50 Mts
Usage : Industrial